ELINEX Power Solutions enters the market off BESS solutions
ELINEX Power Solutions B.V., a reputable supplier of emergency power solutions, is expanding its portfolio to include BESS solutions. BESS stands for "Battery Energy Storage System."
After an intensive 2-year R&D journey, during which we gained extensive insights into the intricacies of the BESS market and the continually evolving energy landscape, ELINEX is now ready to deliver these new BESS solutions to meet the needs of both existing and new customers. These BESS solutions align with ELINEX's mission to ensure that its customers always have access to uninterrupted electrical energy.
ELINEX views BESS solutions as an addition to the offering and use of "Power Solutions." ELINEX does not consider BESS as a substitute for UPS, which provides uninterrupted power for the most critical processes. However, ELINEX does see opportunities to replace (part of) generator power with long-duration battery energy storage.
The energy transition has significantly transformed the energy landscape in recent times, resulting in challenges related to the reliability, continuity, and availability of grid power, in addition to solutions for renewable energy generation. These new challenges for customers can be (partially) addressed with BESS solutions.
Some of the problems that have arisen include grid congestion due to overburdened (local) power grids (whether theoretical or contractual), waiting times of several years to obtain the necessary new or larger grid connections for new or existing businesses, surplus energy generation from solar panel installations and wind turbines leading to energy supply imbalances and fluctuating energy prices.
The market demand is for energy storage solutions, often referred to as "energy buffers" for electrical energy, to help mitigate these imbalances and supplement power shortages from this buffer.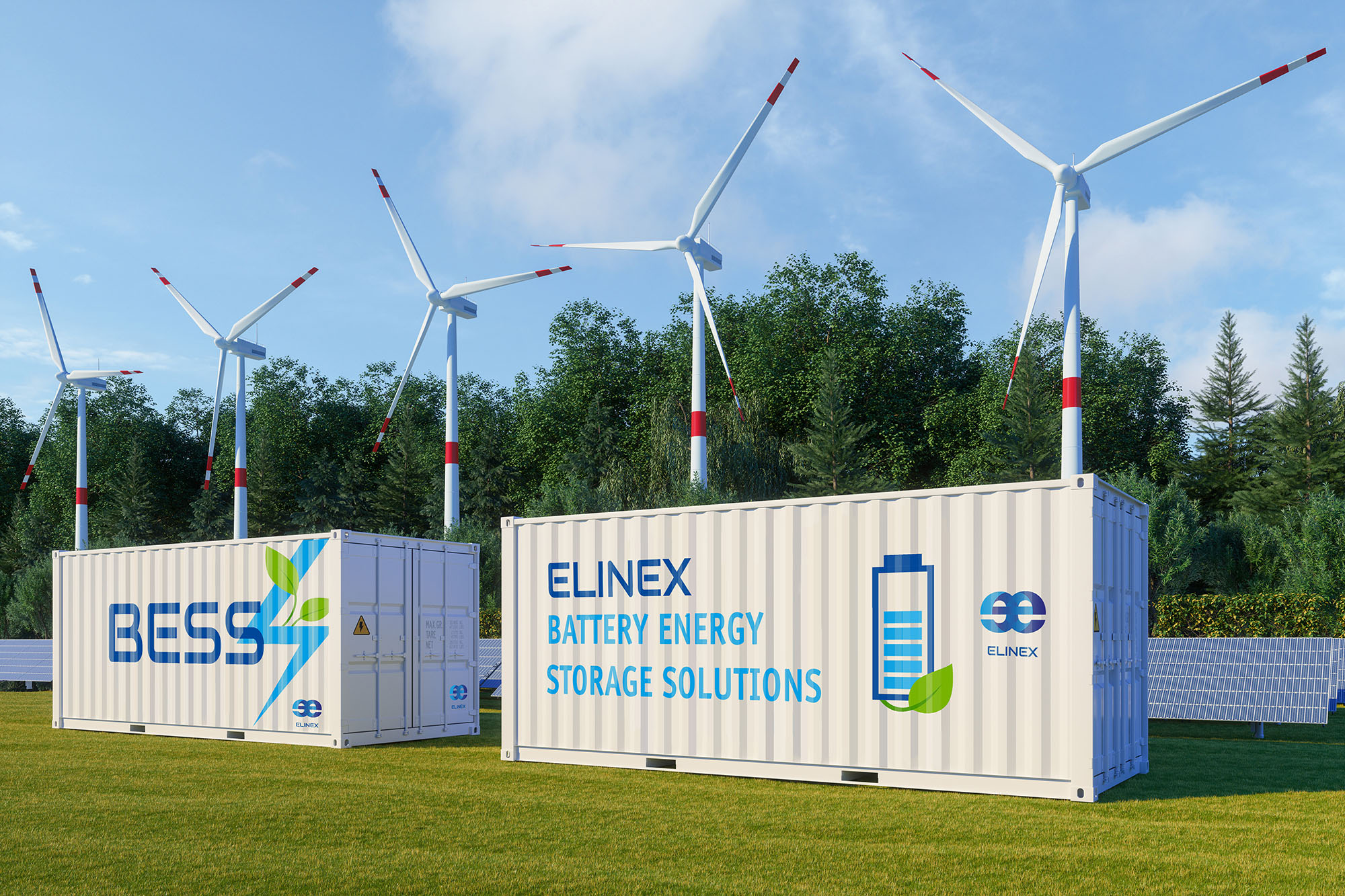 One of these energy storage solutions is "Battery Energy Storage Systems" or BESS solutions. These BESS solutions consist of large battery packs capable of storing energy. Batteries always operate on DC voltage, while user-side or "behind-the meter" electricity networks operate on AC voltage. This necessitates a bidirectional inverter. This technology is closely related to UPS technology, which ELINEX has mastered for over 35 years.
The difference between a UPS and a BESS is that a BESS operates with a bidirectional inverter, while a UPS operates with double conversion through a rectifier and an inverter. Another difference is that BESS systems use larger battery packs and provide 1-hour autonomy, as opposed to the 5 or 10 minutes of autonomy typical for a UPS. Other than that, the technology is quite similar and familiar to ELINEX. UPS systems primarily use VRLA batteries, which are very stable but less suitable for cyclic use. BESS systems mainly use Lithium-ion Iron Phosphate (LFPO4) batteries in combination with battery management, safety, and fire suppression systems. These LFP batteries are suitable for cyclic use and can endure approximately 6,000 cycles during their lifespan.
However, the applications and capabilities of a BESS are entirely different from those of a UPS. BESS systems utilize an Energy Management System (EMS) to regulate all desired energy flows based on configured parameters and factors relevant to the entire installation. These factors include the existing grid connection, contracted consumption and feed-in capacity, and the user's load (typically the production process). Additionally, other factors may include the PV solar panel installation and electric vehicle (EV) charging infrastructure.
BESS solutions are set to be used in the market for various applications and solutions. ELINEX identifies three primary applications for BESS solutions:
Peak shaving, particularly in the Netherlands, as a solution to grid congestion issues when obtaining a larger installation or grid connection is not possible. In Belgium, it is mainly used to reduce peak loads.
Optimizing "self-consumption" versus "self-generated energy" from solar panels or wind turbines.
Utilizing the battery as a return on investment (ROI) model through energy trading on the imbalance market (EPEX) and Frequency Containment Reserve (FCR) market.
ELINEX is a brand-independent integrator and service provider. ELINEX works with various partners and manufacturers of complete BESS solutions, battery solutions, inverters, transformers, and (container) enclosures.
The first partnership ELINEX has established is with HUAWEI Digital Power and VAMAT. ELINEX has been a "Value Add Partner" (VAP) for HUAWEI Digital Power's UPS and data center products since 2014. This partnership is now expanding to include HUAWEI BESS solutions.
The target audience for ELINEX remains the same as its current customer base: SMB+/SME+ businesses, primarily in the Benelux region. In terms of capacity, this encompasses BESS installations ranging from 10kW/20kWh to 1MW/2MWh and potentially multiples thereof.
ELINEX also collaborates with Energy Management Software (EMS) partners that offer a universal software layer that can be placed over various hardware and underlying software solutions.
Furthermore, ELINEX has partnerships with various energy traders, allowing for the delivery of complete BESS solutions from A to Z as a comprehensive solution. This includes providing an investment overview and ROI calculation based on energy trading.
The ELINEX service team is trained to provide 24/7 preventive and corrective maintenance with a response time of 4 hours at the customer's location. Through remote monitoring, ELINEX can continuously monitor the solution and proactively respond to any issues.
ELINEX Demo
At ELINEX in Ridderkerk, you can view LIVE demo models of our BESS solutions. Contact info@elinex.com to schedule an appointment.
Innovation Roadmap:
Since 1986, ELINEX has been a specialist in designing and building (Design & Build) emergency power installations through its project organization and in maintaining and servicing (Maintain & Operate) them through its service organization.
BESS solutions are one of the most recent "power solutions" added to ELINEX's portfolio alongside UPS and emergency power generator (NSA) systems. ELINEX is a specialized project integrator and service organization that integrates products from various manufacturers at customer sites and provides 24/7 service and maintenance throughout the installation's lifespan.
ELINEX also provides brand-independent maintenance for all brands of UPS and NSA across more than 6,000 emergency power installations.
Looking Ahead to Other Products
Initially, ELINEX will focus on successfully implementing these BESS solutions for its customers. Currently, other products and brands are already on the horizon, including supercapacitor-based batteries. ELINEX is also exploring fast chargers for EVs and conversion systems from hydrogen to electricity. Combining UPS and BESS into a single solution is not out of the question.
ELINEX Team Sales, Projects & Services
BESS will be added to the portfolio as a new and additional solution and will be executed by the same existing team and process. However, it is expected that this team will need to expand further. If you know someone enthusiastic about BESS solutions and willing to help ELINEX introduce them to the market, please let us know or refer them to our job vacancy page.
Request for information
For inquiries or to schedule an appointment, you can contact your current account manager or call our Sales department at +31 180 72 13 59 or send an email to BESS@elinex.com.
Or you can directly contact the following individuals:
Bart van Raamsdonk – CEO. Tel. +31(0)180 721304 of bartvanraamsdonk@elinex.com

Xander van Rootselaar – Manager Commercie. Tel. +31(0)180-721360 of xandervanrootselaar@elinex.com
Job Roeleveld – Accountmanager BESS. Tel. +31(0)180 483733 of jobroeleveld@elinex.com
ELINEX Power Solutions B.V. Wolweverstraat 15 2984 CE, Ridderkerk, NL www.elinex.com
---