How we ensure that you always have power
ELINEX is supplier of emergency power generators. We use different brands of engines and generators at any request of our customers.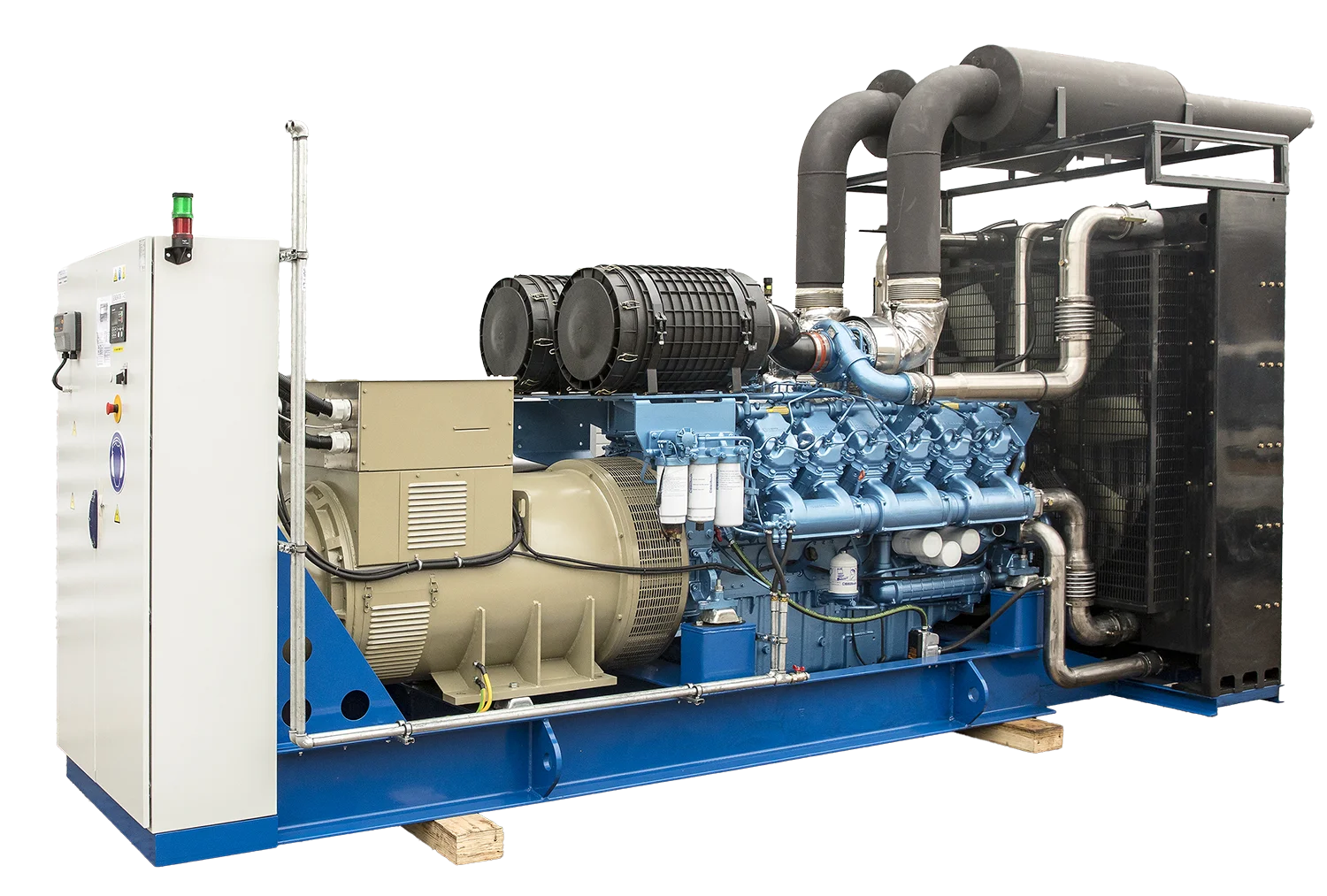 Emergency Power Generator (NSA)
What is an NSA?
An Emergency Power Generator (NSA) is a system that generates energy using fuel. This type of power generator is deployed in places where power failure is unacceptable, such as operating rooms, data centers, and traffic tunnels, and where a long autonomy time needs to be guaranteed. During a power outage, the emergency power installation takes over the power supply, ensuring that critical processes continue. However, an NSA requires a startup time, which is why a UPS is always needed to avoid "going through the dark."
How does an NSA work?
The operating duration of an NSA depends on the amount of fuel available for the generator. Depending on the size of the fuel tank and the possible refilling during operation, the generator of an NSA can run as long as there is fuel provided. An NSA starts up after it receives a startup command. This command comes from a control system, which detects when the power has gone out. An NSA always needs a few seconds to fully rev up and provide the entire load with power, which is why it's also referred to as a "short-break" solution.
What are the differences between a UPS and an Emergency Power Generator?
A UPS and a generator are both emergency power solutions. Unlike a UPS, an NSA can't provide uninterrupted power because the generator doesn't run continuously and always needs a short time to start up. During a power outage, the UPS system switches on immediately to prevent you from losing power. The NSA also starts up automatically. After a certain time, the transition from the UPS to the NSA is done seamlessly. Together, both systems provide a complete emergency power supply.
An emergency power generator can be provided in various configurations and capacities. Consider different fuel options, including bio-diesel, gas, or hydrogen. ELINEX thereby meets the continuous need for sustainability. We collaborate with various manufacturers of NSAs, and for brand-independent maintenance, you are at the right address with us. ELINEX is a contract partner for various networks where both UPS systems and NSAs need to be maintained.
For residential use, ELINEX also delivers emergency power generators. The reason for the increasing use of NSAs in residential homes is the growing unreliability of the fixed, overloaded electricity grid. In all cases, ELINEX assesses the situation in advance and then provides solid technical advice to ensure the best solution is implemented.
The capacities of the NSAs are available between 5kVA and 4MVA!
What types of NSAs does ELINEX provide?

VodafoneZiggo
Elinex provides emergency power systems for our LCs (local centers), RCs (regional centers), and DCs (data centers).

Applied Medical Europe
Applied Medical Europe is a subsidiary of an American parent company and is a manufacturer of instruments for the medical industry, which are used within operating rooms in hospitals.

Vopak
With three chemical terminals (Botlek, Chemiehaven and TTR) and one in Rotterdam Europoort (oil), Vopak Terminals pumps chemicals and oil around the clock on behalf of its clients.

Oldelft Benelux
In collaboration with Oldelft Benelux BV, Elinex has provided an emergency power solution to the Solutions Diagnostic Center of Jahmale Med in Liberia, Africa.

Botlek Tunnel
Croonwolter&dros and ELINEX will provide emergency power installation for the Botlek Tunnel until 2035. On the A15 between Rotterdam and Europoort, 111,000 cars traverse the Botlek Tunnel daily. The A15 serves as a crucial link between the expanding...

Plus Supermarkets
We all regularly stand in line at the checkout when we go grocery shopping. Imagine if there were problems with the power supply to the cashier systems at that moment.
DHL
Who doesn't know them, DHL. Customers depend on them 24/7, which is why power outages are a worst case scenario. View our solution.

Police
They are a 24-hour business, and therefore, a continuous power supply is vital.

Global-E
On Wednesday, June 24, the ceremonial turn-key handover of the delivered total solution took place.

Contact or advice?