In a world in which technological progress is ever faster, it is the SME's that come up with innovative solutions. As a result, they are an essential link in Dutch society. That was the central message during the company visit that Member of Parliament Hawre Rahimi and Richard Spaans and Hugo van Straten of technology company Huawei brought to ELINEX Power Solutions as part of MKB Nederland's Day of the Entrepreneur. As a forerunner in the field of energy storage, ELINEX showed how they are playing a role in the energy transition.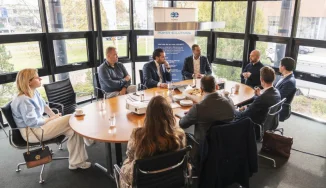 The visit began with a presentation by general manager Bart van Raamsdonk of ELINEX Power Solutions. In 37 years, this family business has grown into a service organization with more than 50 employees. ELINEX specializes in emergency power supplies and is increasingly focusing on energy storage.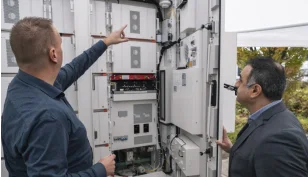 Continuous energy supply
During a tour of the company, visitors were introduced to the advanced solutions used by ELINEX. One such technology is an impressiveenergy storage battery developed by Huawei. This so-called BESS (Battery Energy Storage System) solution can guarantee the continuity of energy supply for an entire business park.
Solutions within the energy transition
During the visit, Hawre Rahimi (VVD) emphasized the importance of cherishing small and medium-sized enterprises. "Entrepreneurs who want to invest in their employees and in their businesses must be given ample room to maneuver, without being hindered by excessive regulation. That is what I am going to do my best for if I do get into the Chamber with preferential votes" Rahimi said. This fits the philosophy of ELINEX, which shows with its solutions that they are not only moving with the times, but actually helping other entrepreneurs solve problems within the energy transition. In support, Hawre Rahimihanded the director of ELINEX a symbolic check with a personal message.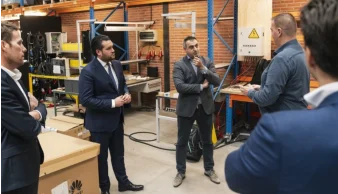 Persistence of SME business
Richard Spaans, Head of Corporate & Public Affairs at Huawei Netherlands, added that entrepreneurs often do not have the time and resources to keep up with all the developments. "This is where we try to do our part as a knowledge partner of SME the Netherlands in the field of technology and digitalization. To express our appreciation for the commitment and perseverance shown by many entrepreneurs, we are participating in this year's Day of the Entrepreneur."
Energy and entrepreneurial spirit
The collaboration between Huawei and ELINEX on energy storage shows that SMEs are not alone in their challenges. The sector is bursting with energy and enterprise and, with the right support, can contribute to a sustainable and economically strong future.
---