ELINEX & HUAWEI BESS Solutions Partnership
Following our ELINEX press release announcing our entry into the BESS market, we would like to inform you about the HUAWEI Digital Power & Fusion Solar BESS solutions and our collaboration in this regard. The first solutions that ELINEX presents within its BESS portfolio are the HUAWEI Digital Power & Fusion Solar solutions. Just like with HUAWEI UPS and data center products, HUAWEI has once again put a lot of thought into these products and has created an outstanding product design with many innovative features that enhance their operation, efficiency, safety, and reliability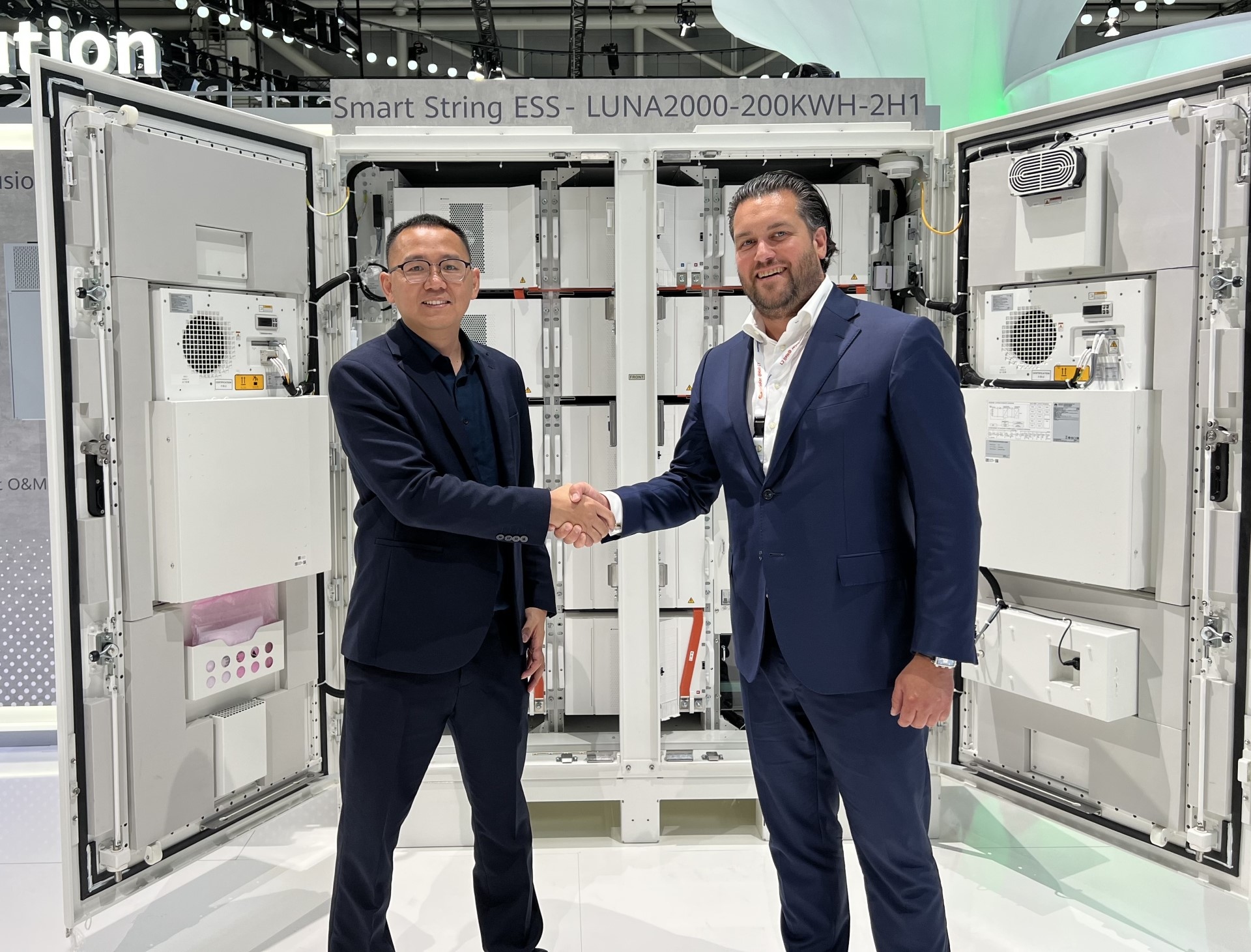 ELINEX & HUAWEI solidify their partnership during the ees Europe "Europe's Largest and Most International Exhibition for Batteries and Energy Storage Systems."
With this step, ELINEX expands its "Value Add Partnership" (VAP) with HUAWEI Digital Power and is now also an integrator & service partner for the entire process of Design, Build, Maintain, and Operate for BESS. Elinex collaborates with Vamat as the VAP partner & distributor for these specific BESS products.
BESS solutions from Huawei Digital Power:
Currently, HUAWEI Digital Power offers two products for the "C&I" or "Commercial & Industrial" segment. These are the "LUNA2000-200KWH-2H1 Smart String ESS" and the "LUNA2000-2.0MWH-1H0/2H0 Smart String ESS."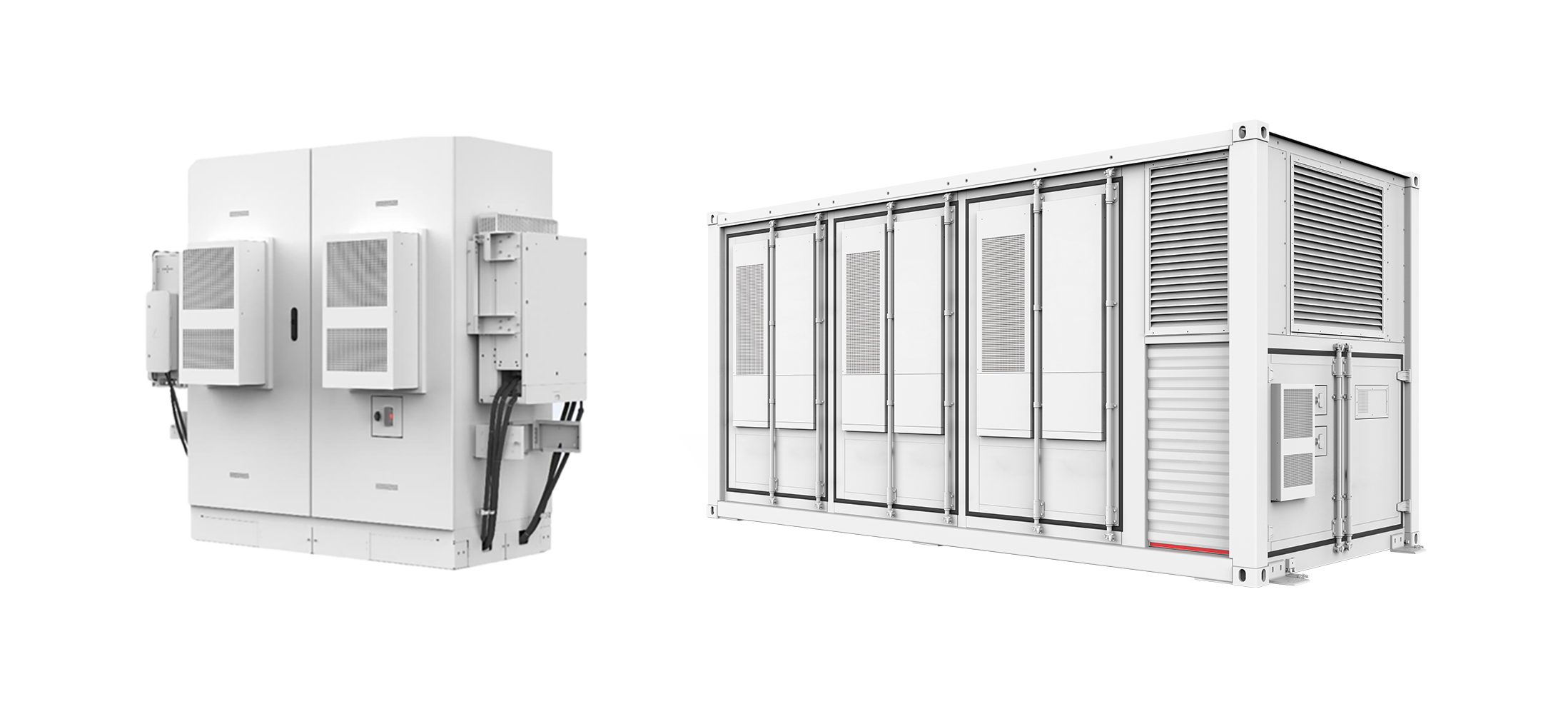 The LUNA2000-200KWH-2H1 BESS solution has an inverter capacity of 100kW and a battery capacity of 200kWh. This ratio is 1 to 2, which means a 0.5C rate in terms of battery (dis)charge.
This solution is built within an outdoor cabinet equipped with a bi-directional 100KW inverter, 12 lithium-ion (LFP) battery modules, a battery management system (BMS), safety features such as a fire suppression system, built-in cooling, and monitoring software.
It can be paralleled up to 4 times, allowing for a BESS capacity of 400kW and 800kWh to be achieved. This solution is ideally suited for small to medium-sized businesses (SMBs) and also offers the possibility of pay-as-you-grow by expanding in phases.
The LUNA2000-2.0MWH-1H0/2H0 BESS solution has an inverter capacity of 1MW and a battery capacity of 2MWh.
This solution is built within a 20-ft. ISO container manufactured by the supplier and can be paralleled many times. This solution is ideally suited for larger businesses (MKB) that require more power and have larger grid connections available. For example, it's suitable for data centers, hospitals, or industrial segments.
These BESS solutions can be used for various purposes, including peak-shaving, energy trading, optimizing the self-generation and consumption of PV solar panels, or electric vehicle (EV) charging stations.
These HUAWEI solutions smartly cooperate with the software of other HUAWEI solutions, such as PV inverters, but can, in principle, be integrated into all types of installations.
Click here for more information over deze producten op onze productpagina's.
Klik here for the Whitepaper "Huawei Fusion Solar C&I ESS Safety".
Regarding the EMS - Energy Management Software, the internal EMS of HUAWEI Fusion Solar can be used for basic programming. For more complex custom programming, ELINEX collaborates with EMS partners recognized by HUAWEI for an external EMS.
ELINEX has a valuable partnership with Vamat & HUAWEI Digital Power & Fusion Solar, featuring the right innovative products. These two products are just the beginning in terms of battery energy storage and lay the foundation for the upcoming period when new innovations will likely enter the market, such as sodium-ion batteries and other innovations.
ELINEX is capable of identifying your needs, translating them into a suitable (custom) solution, from quotation to project execution, as well as providing maintenance and service in the years to come. We are here to provide you with peace of mind for your Huawei ESS projects.
For more information and inquiries, please send an email to BESS@elinex.com or directly contact our "Account Manager BESS," Job Roeleveld, at jobroeleveld@elinex.com or
Tel. +31 180 483733.
Stay tuned for further news about our demo installation of the 200kWh BESS solution at Elinex in Ridderkerk (NL).
---