ELINEX Power Conditioners
ELINEX is the manufacturer of the EL Power conditioners. The power conditioner is the ultimate protection when it comes to suppressing voltage pollution and surges resulting from indirect lightning strikes. All electronic equipment, or equipment equipped with switched-mode power supplies, is protected by this. Almost all electronic systems nowadays use switched-mode power supplies. The power conditioner is an extremely suitable solution for use within POS systems in the retail sector.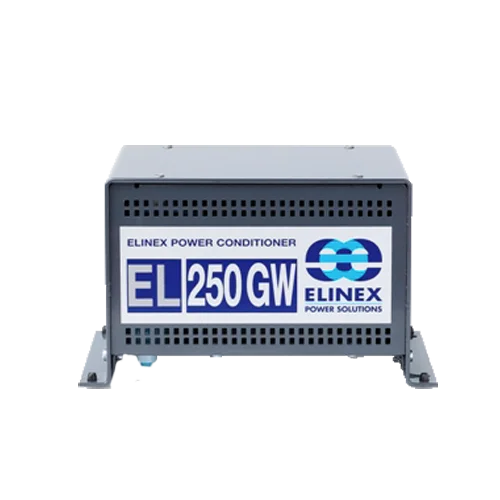 Power Conditioner - EL 250 GW
The power conditioner is part of the conditioning concept, as Elinex mainly implements it within the retail sector, with supermarkets and hospitality businesses being the key segments. In these segments, cash register automation is widely used, and disruptions often occur within this automation.
The power conditioner is the device used to eliminate these disruptions at that moment. In addition, the power conditioner finds wide application in the medical sector where IEC standard 601-1-1 is demanded. Also, in an industrial environment where control through data connections suffers from mains pollution, the power conditioner ensures everything continues to function.
Advantages

Power range 250VA to 1000VA;
Suppression of net pollution both in normal mode and common mode and the associated crossings;
Suppression of inductive lightning energy according to IEEE 587, 6 KV cat. B, zone C according to VDE-0675 and cat. III according to IEC-664;
Maximum residual voltage normal mode =
Low impedance transformer;
Suppression interactive noise;
Reduction of leakage currents to below 100 uA according to IEC 601 (certificate optional);
5-year warranty RoHS compliant.

Contact or advice?