'Keep on running' especially applies to the power supply.
Customers buying sports shoes at Foot Locker know they walk well and, most importantly, keep on walking. The crowded stores and online shop of Foot Locker are proof of the brand's success. Foot Locker is an American sportswear and footwear chain, headquartered in New York, and operates in approximately 28 countries worldwide. What many people don't know, however, is that the EMEA (Europe, Middle East, Asia) distribution center of Foot Locker is located in the Netherlands. To be precise, it's located in Heijen, Limburg. This is where the complete inventory is stored and distributed to the various Foot Locker stores in EMEA countries. It's also where online orders are processed and shipped to customers in all these countries. This operation is complex and must not be interrupted. So, 'keep on running' is essential for this distribution center. Therefore, a reliable power supply is critical, and ELINEX Power Solutions provides it. We spoke with Laurens Kauffeld, Manager of Supply Chain Systems at Foot Locker, and Job Roeleveld, Account Manager at ELINEX.
'Without power, the entire chain has a problem.'
With this statement, Kauffeld opens the conversation. "I am responsible for all IT systems within our European Service Center. We are not just talking about computer systems, but also about the logistics hardware present here. Just think about the many conveyor belts running here. Continuity must be ensured throughout the entire chain, from order entry to handing over the packages to the courier service."
"Every server in Heijen has its own UPS," explains Roeleveld. "These UPS units provide a minimum of 5 minutes of backup power, enough time for the Emergency Power Generator (EPG) to start up in case of emergencies. A fact: 90% of all power outages in the Netherlands do not last longer than 5 minutes." Kauffeld outlines the configuration: "The EPG is linked to the main switch. Within 15 to 30 seconds, the generator is running at full power, and the UPS units handle this startup time smoothly."
In total, there are nine UPS units present.
Foot Locker in Heijen operates with two types of UPS systems. "Two large UPS units serve all servers, on which the vital ICT infrastructure of the Warehouse Management System depends. The power capacity of these two Centiel Premium Towers is 20 kW each, more than sufficient to ensure the power supply," says Kauffeld. "Additionally, there are 7 smaller UPS units in the form of 6 Centiel Essential Power systems of 2 kW each and 1 Centiel Essential Power system of 3 kW. These 7 UPS units provide backup power for the network cabinets."
Kauffeld started his position in Heijen in July 2022. Job Roeleveld introduced him to all the information and technology related to the emergency power supply at that time. "He did an excellent job," Kauffeld smiles. "The Elinex installation holds no secrets for me anymore." In addition to the emergency power supply, Elinex also supplied the necessary communication cards, allowing for network logins. A bypass cabinet was also part of the delivery. Roeleveld explains: "This allows you to disconnect the UPS from the power without disrupting the load, making it safe to perform maintenance, for example."
Working in partnership
Laurens Kauffeld sees the collaboration between Foot Locker and Elinex more as a partnership: "We have a service agreement with Elinex. Every year, Elinex comes here for annual maintenance, and we've agreed that their service response time for the large UPS units is within 4 hours, while for the smaller UPS units, it's 1 day. We are very satisfied with the quality, speed, and level of service provided by Elinex."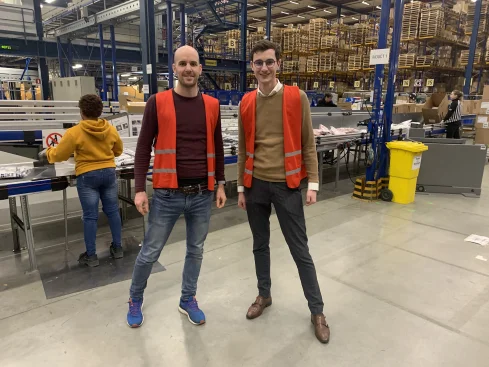 Tekst: Jan Mol - Draeckensteijn Media

---